We are proud to offer the following services at Dakota Pet Hospital
---
Appointments
Our appointment book is computerized which allows us to efficiently make appointments for you and your pet. Our fully trained reception staff will make all attempts to accommodate your requests to the best of their ability. If you feel you have an emergency with your pet, it would be best to call before coming in so that a staff member can advise you on your particular emergency and if we can accommodate you at that particular time of day or if the 24 hour emergency clinic would be the best option.
---
Preventive and General Medicine
Dakota Pet Hospital strives to prevent disease before it has a chance to happen. Disease prevention begins with an annual physical exam. We recommend routine blood screenings and offer your senior pet an individualized wellness blood panel. Urine and stool samples are another tool used for detecting illness in cats and dogs. If you have any questions or concerns regarding any of these screening tools, please ask your veterinarian at your appointment.
www.petplace.com - Dakota Pet Hospital vet approved pet information
public.homeagain.com - HomeAgain Microchip information
Our doctors and staff will meet the highest of standards when providing excellent and quality care for pets of all ages and their individual needs.
---
Laboratory and Surgery Services
We are able to perform In-House bloodwork, urinalysis, heartworm test, stool samples tests and much more. We also perform routine surgeries such as spays and neuters. If you have any questions regarding any of our laboratory, surgery services or specialty surgeries, please don't hesitate to give us a call.
---
Dental Cleaning with Oral Evaluation
Your veterinarian may recommend that your pet have a dental cleaning with oral evaluation to remove tartar buildup from your pet's teeth as a preventive measure or because your pet needs one or more of their teeth removed (extracted) both of which comes with 4 digital x-rays. Keep in mind that dental disease is often painful; your pet may have difficulty or stop eating from dental disease. Your pet may need one or more teeth extracted depending on the severity of dental disease present. If your pet has dental disease and based on the severity of it, your pet may be required to start antibiotics prior to their dental cleaning with oral evaluation.
We offer a $50.00 discount if you schedule your pet's dental cleaning with oral evaluation within 30 days of their annual exam.
---
Grooming
Your pet deserves to be pampered too! Much like your own salon experience, we believe that grooming should be enjoyable, comfortable and soothing, that's why we offer a quiet, stress free environment. With over 30 years experience, Chris and Lynn are both very accomplished and experienced groomers. They have the skills and patience to work with your pets. Young, old, anxious or scared, we will do our best to help your pet(s) learn to enjoy being pampered! Our groomers pride themselves on making your cat or dog look and feel their best!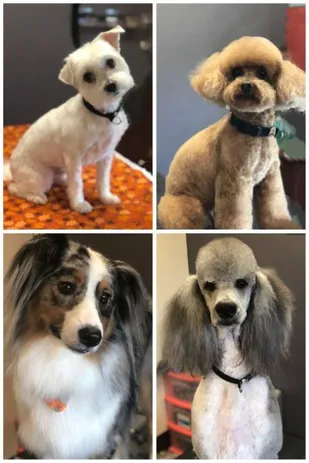 Grooming services available
Baths

Brushing

Face trims

Haircuts

Nail trimmings

Shampooing (natural and medicated)
We also offer the following upon request
Anal gland expression

Ear cleaning

Ear hair removal
---
Types of pets seen
---
Please call if you have any questions or to schedule an appointment.
952-469-1525